About Habataku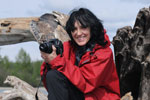 Habataku, what does that mean! That is one of my favorite Japanese words. It means to flap your wings and fly. I fantasize that in some former life, I was a migratory bird, perhaps that is why I became a pilot as soon as I had the opportunity. I so envy the freedom that birds have, to simply lift off and go from one end of the planet to the other, somehow never getting lost.

My name is Caren della Cioppa and I was born in New Jersey but have had the urge to wander all over the planet ever since my mother decided to pick up roots and move to California when I was 13 years old. I think she instilled in my soul the knowledge that we can go wherever we want to; we can just follow our heart. I started out early with a love for art and took private oil painting lessons at age eleven. I always wanted to go to Italy to study art but somehow ended up becoming an electrical engineer in California. Something about starving artists as I recall! Engineering didn't seem too exciting in those days so my restless spirit finally won over and I gradually migrated all the way up to Alaska, answering the call of the wild. I was drawn to Alaska's extremes, the long frigid winters as well as the endless summer days illuminated by the midnight sun. When I saw the vast snow-covered mountains below me from the window of an airliner on a trip to Alaska, I knew I had to come back, and start a new life far away from the hectic world of Southern California. I have never regretted that move, and have had a wonderful life living in my log cabin in the woods near Palmer, Alaska. I spent an entire career with Anchorage Fire Department as a paramedic firefighter, and had a secondary career as an air taxi pilot and flight instructor. Now I work on the Arctic Slope reporting the aviation weather at the Prudhoe Bay oil fields.

My dream now is to travel to as many countries around the world as I can, camera in hand, recording the wonders of nature and the spirit of the people. So far I have done some amazing adventure trips such as Trekking in Nepal, Mongolia by horseback, Tibet by Jeep, and China by bicycle. I've hiked the Old Inca Trail in Peru, kayaked in Costa Rica, and wandered solo through Japan and Italy. So much planet, and so little time!

Digital photography has won my heart, and now my Nikon D810 is my constant companion. Many of the photos on this site were taken with earlier cameras, many with film. Most can be enlarged and all are available for purchase in the 8x10 size. Click here for information about purchasing prints. The entire price of any of my photos will go directly to my Team In Training Fundraising Page.

I enjoy writing about some of my adventures, so I have included links below to some of my stories.
Arctic Flying
Climbing Denali
Iliamna Engine Failure
Enlightenment
Light Dreams
The Chilkoot Trail
Hiking the Chilkoot Trail
The Caribou
Cyber Animism

I am fascinated with languages and have studied Japanese, Latin, Russian, and Italian.
Below are links to several language related papers I have written.
The Indus Script
The Japanese Word Processor
La Galleria degli Uffizi
---
My other sites:
Shikoku 88 Temples Pilgrimage Blog
Portuguese Camino de Santiago Blog
Race 4 Cancer


Promote Your Page Too
All photography � Caren della Cioppa