Along the Arctic Coast (May 1990)
Caren della Cioppa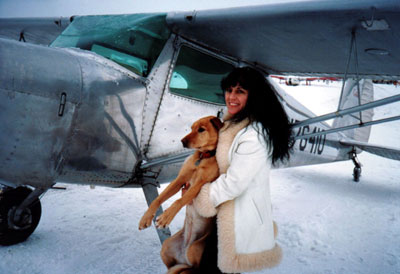 Dan Wolf, the former owner of my gorgeous polished aluminum 1946 Cessna 140, was a master airplane artisan who had totally reformed the little plane into something that looked more like a museum piece than a real flying machine. When I first saw the plane, she sat gleaming in a hangar so immaculate that one could eat off the floor. In fact, that plane was so clean that one probably could have safely eaten off the engine. She sparkled from prop to tail from Dan's tender loving care. I was rather poor in those days, but I found a way to obtain the $10,000 that he was asking, and a few days later emancipated her from her pristine existence.
That day, N76410 began a new life, parked on the gravel at the horrendously windy airport in Palmer, Alaska. The airport is located at the confluence of two rivers that wind down from their respective glacier valleys, thus creating some of the most obnoxious wind conditions that I have ever seen. The new location was only the beginning of the changes in store for this shiny plane. She now had a new owner who could not resist wandering. No more quiet days in the hangar for N76410, she was going to do what she does best – FLY!
I love to explore new territory, so Cessna 76410 and I, along with my able copilot, Foxtrot, a 65-pound lab husky cross, logged nearly 1000 hours in the next three years. Together, we wandered to most of the villages and towns in Alaska, and trekked through Canada several times to visit my family in New Jersey, and California.
Alaska flying can be intimidating due to sparse weather reporting, vast distances between improved airports, and lack of such amenities as fuel and aircraft maintenance. Soon after I obtained my pilot's license, I developed a fascination with the barren Arctic coast between Barrow and Kotzebue, but knew that a Cessna 140 would not have sufficient range for the 400-mile flight. Only a few DEW line stations and small Eskimo villages exist along the route, none of which provides fuel. I realized that if I wanted to attempt the trip I must carry my own fuel supply and plan stops along the way. I decided to try it in May of 1990 but didn't accomplish the flight until my second attempt.
The first trip was uneventful, until I left Umiat, the only fuel stop north of the Brooks Range other than the coastal airports of Barrow and Prudhoe Bay, 150 miles to the north. When I checked the weather at Umiat, Barrow was reporting a 500-foot ceiling with 2 miles visibility, but it was crystal clear and beautiful everywhere else. So, I decided to try for Barrow and planned to turn back to Umiat if the weather deteriorated. It was perfect until about 20 miles south of Barrow, at which time it was instantly terrible. The entire world was white. The ground was white from snow, and the sky was white from clouds. Additionally, I discovered that my ancient VOR receiver had picked that moment to cease functioning. My Loran appeared to be working, but apparently was not working correctly, because it indicated that I was over Barrow but below me was nothing but empty, snow-covered tundra. I also noticed that my compass had a greatly exaggerated northerly turning error. With the slightest bank in any direction, it would spin several revolutions, rendering it useless.
Since I only had visibility straight down with a view of nothing but snow below, I decided it was time to confess to Barrow Flight Service and ask for advice. They were wonderful and gave me a DF Steer into Barrow. However, it was difficult for us both because when they told me to turn to a heading, I had no idea which way I was going or how many degrees of turn I made because the compass seemed to spin continually. Finally, after what seemed like an eternity filled with countless turns, I spotted a road below me. I managed to follow that road and land safely at the Barrow Airport, in weather still reported as 500 and 2, but more realistically closer to 200 and ½. I have heard rumors since, that in those days, prior to automated weather reporting, Barrow rarely reported weather below 500 and 2, since that is the lowest possible condition for legal air taxi operation. Aviation is the primary mode of transportation in the Arctic, so the local pilots have been known to occasionally bend the rules.
Barrow Flight Service was not only helpful by guiding this lost soul to their airport, but they also gave me a place to stay that night. I camped in the adjoining building in a loft, which I accessed via a steep ramp that was more like a ladder than a ramp. I still remember poor Foxtrot clinging to the one-inch strips of wood with her nails as she struggled to join me. The morning weather was not conducive to continuing towards Kotzebue, so Foxtrot and I followed the coast in the opposite direction to Prudhoe Bay, 200 miles to the east, landed at the Dead Horse airport, and then flew south along the Alaska Pipeline haul road, and back home to Palmer.
When I got home, I made some significant adjustments to my Arctic Coast plan, the most important of which was to add an ADF receiver to my panel. That was before the days of GPS, a now indispensable item for all Arctic aircraft. Two weeks later, I made my second attempt at the Barrow to Kotzebue coast route. This time the weather suggested that I make the trip in the opposite direction, so I left Palmer, flew west through the Alaska Range, stopped at McGrath, Galena, Nome, and Kotzebue for fuel, intending to depart along the coast for Barrow in the morning. The next morning I pulled my starter and nothing happened. Instead of heading north, I rolled the plane into the hangar of a local air taxi service. They found that my generator had failed, but they said they could fix it, and supposedly did so.
By the time they had me ready to fly, the weather had changed again, making my original Barrow to Kotzebue route preferable to the reverse. With battery charged and fuel tanks filled, I turned to the east and flew to Ambler. I added a quart of oil in Ambler, fueled again, then continued east towards Bettles. It was a lovely flight complete with a view of a huge herd of caribou swimming across the Kobuk River. The weather was clear and the flight delightful, but just as I saw the tiny village of Bettles in the distance, I also saw my oil gage drop to zero. I decided that the trees below were less than an ideal landing spot so I continued a few more minutes for a non-eventful landing at Bettles. I checked my oil and sure enough, I had none.
Bettles is a beautiful spot, 35 miles north of the Arctic Circle, known as the jumping off spot for the Gates of the Arctic National Park. The town currently boasts a population of 36. I was happy to be safely on the ground with my mechanical problem, but I did not hold high hopes for a simple solution. They did have fuel there, and to my surprise, they had a lone mechanic. He quickly located my problem, which was a generator that had been reinstalled without its gasket, thus causing all of my oil to leak out. I remember glancing back in the direction of Kotzebue, and shaking my head in disgust. The mechanic went back into his stash of old aircraft parts and to my amazement, returned with a gasket for my Continental 85 engine. He fixed it quickly, and Foxtrot and I were on our way north the next morning, after camping in the midnight sun beneath the wing of my Cessna 140.
We had a spectacular flight through the Brooks Range with a rest stop at Anaktuvuk Pass, proclaimed the most scenic village on the North Slope of Alaska. It lies on the divide between the Anaktuvuk and John rivers, surrounded by the high mountains of the Brooks Range. Anaktuvuk is the only remaining village of inland Inupiat Eskimos, known as the Nunamiut. The name Anaktuvuk means, "place of caribou droppings" because it is located along the caribou migration route. The charming village is also totally within the boundaries of Gates of the Arctic National Park.
Leaving Anaktuvuk behind, N76410, Foxtrot, and I headed north across the tundra to Umiat for our last fuel stop. Then we were off through clear skies and bright sunshine to Barrow whose current reported weather conditions were the usual, 500 feet and 2 miles visibility. Upon arrival at Barrow, easily found this time via my ADF needle, I landed with actual 200 overcast ½-mile flight visibility, intending to spend the night before venturing out along the Arctic Coast towards Kotzebue.
Once again, the weather made my decision for me. Kotzebue was clear and forecast to stay that way through the night. However, the new weather report indicated that Barrow would deteriorate immediately. It was 8 pm, but the sun does not set at all in late May, so I decided to take the advice of Flight Service, which was to fuel up and get out quickly. As I left Barrow, a heavy fog began to roll in. I raced it in hopes of landing in Wainwright to refuel from my gas cans. The fog apparently had a faster airspeed than a Cessna 140, and the Wainwright runway disappeared the very instant I arrived overhead. I knew there was no turning back so I resigned myself to my only option, which was to land at the next available runway. Unfortunately, the next runway was a DEW line station called Icy Cape. Since my chart listed Icy Cape as an Air Force station, I had a strong suspicion that I would not be welcome there. However, I rehearsed the lines I planned to use to describe my impending fuel emergency, and continued on my way.
As I approached Icy Cape, I announced my intentions on the radio, but no one responded. There was obviously no traffic so I landed on the airstrip, opposite the end with buildings, and hoped for the best. I quickly jumped out, grabbed a gas can, climbed up to the wing, refueled, and scurried back into the plane and pulled the starter. Nothing happened! I looked in desperation towards Foxtrot as if she might provide a solution. She simply returned my blank stare. I figured that at that point, my best bet was to wander down to the buildings at the opposite end of the field, confess to the Air Force, and plead for help. I did not have to walk very far before I realized that those buildings down there had been abandoned for a very long time. There was not a living soul anywhere close to Icy Cape. It was just Foxtrot, N76410, and me, alone beside the frozen Arctic Ocean.
There were no tie-downs, so I decided to use all of my camping and survival gear to chock the wheels. Then I attempted to hand prop the plane, with only Foxtrot at the controls. I propped and propped until I thought my arms would fall off, and it finally started. I jumped back in the plane and off we flew into the sunny Arctic night with no electrical system. The generator had obviously died its final death.
We landed again at Point Hope at about 1:00 am. Point Hope is a tiny Eskimo village located on a narrow spit on the western-most tip of the northwest Alaska coast. When I landed, it seemed as if the entire town was out wandering around. Unfortunately, all of the people that I met were quite intoxicated, so I decided not to extend my stay. I quickly accomplished my last refueling, chocked the wheels again, hand propped, and taxied out to the runway. In my hurry, I forgot that I had turned off the fuel. My carburetor tends to leak, so I always turn off the fuel when I stop the engine. Before I had time to do my pre-takeoff checklist, the engine came to a stop. Now, at the approach end of the gravel strip, I once again dragged my gear out and chocked the wheels, hand propped the plane, and just as the engine roared back to life, and I finished removing my gear from the wheels, out jumped Foxtrot. Off she ran down the runway. I throttled back, replaced my gear in front of the wheels, and then proceeded to run down the runway screaming "Foxtrot" at the top of my lungs. It is difficult to imagine anything more ridiculous than yelling "Foxtrot" in an airport environment anyway, much less at 1 o'clock in the morning. I finally caught up with the wayward dog, and even though she weighed 65 pounds, I picked her up, carried her back, and stuffed her into that airplane. I am sure the Point Hope residents figured that I was more inebriated than they were.
I finally arrived in Kotzebue at 3:00 am, as the sun was getting low in the sky. It does not really set at that time of year, but it still gets low enough to display the gorgeous red and orange colors of an impending sunset. Happy to have finally achieved my goal of flying the Arctic coast, I taxied up to the tie-down spot in front of the Flight Service Station that I had left several days earlier. Instead of the solid ground I expected, I discovered that it had warmed up and turned to mud. My right wheel buried itself into the mud so deeply that the right wing was only a few inches from the ground. Disgusted and exhausted, I went into the Flight Service Station and asked if I could camp there. They let me throw my sleeping bag on the floor of a back room and I fell into a very deep, much needed sleep. In the morning, I asked if they had a shovel. As I started to dig my right wheel out, men suddenly appeared from everywhere. Apparently, the men of Kotzebue rarely see women pilots traveling alone, so they were all eager to help a "lady in distress." The gang quickly extricated my wheel from the mud, and then pushed the poor plane back to the shop that had originally "fixed" the generator. They apologized for their rather inadequate repair job, charged my battery, hand propped the plane, and sent me on my way.
I was on my way home, but as before, I had to make it quick, because another storm was offshore getting ready to engulf Kotzebue in impossible flying conditions. It had already enveloped the route I had planned to take, so I had to take a longer route along the Yukon River, to Fairbanks, then south to Palmer. The approaching front chased me all the way home, but I got to Palmer before it did. I landed, closed my flight plan, and opened the door as Foxtrot leapt across my body and took off across the tarmac. Then I did what I had to do after nearly every flight, prior to two years ago when Foxtrot took her final flight to the heaven where good dogs go.
I ran through the Palmer airport screaming "Foxtrot" at the top of my lungs.
All photography © Caren della Cioppa