Hiking the
Chilkoot
Trail
Caren della Cioppa
My first trip on the Chilkoot Trail was fabulous, but what an ordeal it was! I was hiking with a group of friends, and my dog Foxtrot. Foxtrot was wearing her doggy pack full of dog food. I had a load of 50 pounds on my back, assuming that I would need everything but the kitchen sink to make my trip more comfortable. In the first two miles, I managed to fall into a swamp of thick, yucky, black, stinky mud. There I was, covered with mud, soaked and smelling like swamp muck. Wasn't that a nice way to start a trip! I was able to wash most of it off with my wash cloth in a little running stream, but my pride was severely damaged!
That first day we hiked 13 miles. The hike was long and arduous. I was earnestly trying to obey the park rules by keeping Foxtrot on her leash. However, unfortunately, because we go skijoring all winter with her in a harness pulling me on my skis, she assumes that she is supposed to pull when on a leash. We rarely go for the typical dog walk so she doesn't quite understand the meaning of the leash. It was tricky trying to remain upright with a 55 pound lab pulling me over rocks while carrying a 50 pound pack. I did not always remain standing upright!
The second morning it was pouring rain. This was the day we had to do the difficult part - straight up (or almost) for 3000 feet, over huge boulders that required the use of all fours. My pack kept trying to knock me over, and it succeeded on numerous occasions. I abandoned the dog leash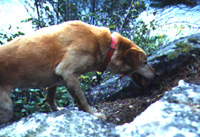 and took the dog's pack off of her so she could jump from rock to rock. This of course made my pack even heavier. The rain was pouring down and the wind was blowing furiously. Our party got separated because there was no real trail, just occasional poles stuck in the rocks marking the suggested route to the top of the pass. I was alone because Foxtrot, was moving faster than I and she had gone off with one of my faster companions. For 5 hours I crawled up these wet slippery rocks, through the fog, alone. Not even my dog to talk to. Then suddenly, the howling wind took on a different sound. At first I thought it was just the wind, and then I distinctly thought I heard the howl of a wolf. Knowing that would be unlikely on this ungodly, uneven terrain, I shouted at the top of my lungs, "Foxtrot". My shout was answered by a more distinct dog howl followed by a dog whimper. I shouted, she whined, I shouted, she howled. Finally I spotted a soaking wet drowned rat of a yellow lab who had faithfully returned to look for her bedraggled master! I was so glad to see her. I was soaked to the skin so I didn't mind hugging the dripping creature. We struggled on up the last 500 feet or so. She would go up over a few boulders, and then I would follow. I had to lift her up over some of the biggest ones, although I believe she would have simply found an alternate route, but did not want to risk getting separated again.
At last, we stumbled into the warming hut at the top of the pass, a little cabin with at least 30 other soaking wet hikers huddled around a couple of burning camp stoves. Everyone there was impressed with Foxtrot. Dogs are discouraged on this trail, and the park authorities were considering a move to forbid them altogether. The park service delights in telling dog owners horror stories about the dogs that have had to be flown out by helicopter, or who have brought an angry bear back down the trail to devour their owners. Despite these tales, I brought Foxtrot anyway because I knew she was one mighty tough dog. When she reached the top of the Chilkoot Pass, I knew that I had judged her correctly. She was really amazing. At that point, she won the hearts of every hiker on the trail. Those hikers all took home various memories of the trail, they will forget some parts, but all will remember Foxtrot.
After warming at the hut, we started out again for the 4 mile descent to appropriately named Happy Camp. I left before my two girlfriends, Elaine and Diane, because I felt they were moving faster and that they would quickly pass me. Well, I'm not sure how it happened, but in the fog somehow, I got lost. Again the trail was only rocks with an occasional pole or piece of orange flagging. I missed it somehow. I spent a cold lonely wet half hour climbing up on a ridge searching for the trail. Of course, Foxtrot finally sniffed her way to the correct route. By now my friends had long since passed and thought I was bounding on ahead of them. At this point, the creeks had swollen to river levels. There were creeks where there had never been creeks before. There were raging rivers where there had once been creeks. There was a creek where there had once been trail. Every other step became a creek crossing. My boots were so wet that the threads holding them together began to deteriorate. I was concerned that my boots might just disintegrate and fall off, but they managed to stay attached to my feet! Some of the river crossings were so intimidating, they looked impossible. Upon reaching one particularly formidable creek crossing, one young couple turned back because the woman refused to cross. I had helped her cross a large one earlier by using Foxtrot's dog leash as a belay rope. When I offered this option again, she declined and rushed for the warming hut that she had just left half an hour ago. I was quite disappointed when they left, because I was hoping to have them also help me across this raging torrent with the help of The 20 foot dog leash. I was alone with the river.
Foxtrot took one look at that water and refused to budge towards it. I walked up and down seeking a better crossing but finally gave up and just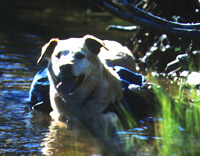 forged into the rushing water. I grabbed the dog's collar and nudged her in with me. We made it most of the way when my unwieldy pack shifted causing me to lose my balance. I fell to my knees soaking myself to my hips. Of course I was already soaked so it didn't much matter at the time. However, later I was quite dismayed to realize that my pack had been submerged and my down sleeping bag was totally saturated and would be rendered unusable for the duration of the trip. Foxtrot and I continued down through the rocks and the creeks. I fell more times than I care to admit. Eventually we staggered into Happy Camp where my friends were growing concerned for our welfare. They arrived in Happy Camp 30 minutes before me expecting to find me there. They were quite relieved to see our bedraggled selves.
At Happy Camp there was another welcome, warming hut. It was packed with the same group of dripping wet hikers that were at the summit. Everyone had soaking wet clothes that were hanging from ropes inside the little hut. It was warm from camp stoves, but the steam was unbelievable. The humidity must have been 900% in that place. There was no possible hope of drying anything in there. I pulled my sleeping bag out and with help from a couple of non English speaking fellows, managed to wring about a gallon of water out of it. We hung it on a rope outside under the porch roof. I knew I would not be sleeping in it that night. I spent that night curled up in the warming hut on a bench wrapped up in my coat. It was cold but I did manage to get a little sleep in spite of the snoring of a couple of other guys who had also elected to sleep in there. Foxtrot slept on the floor by my side.
The third day was much better, the rain stopped. We only hiked 5 and 1/2 miles to Lindeman camp. We had all afternoon to rest and dry things out. My sleeping bag was a goner though. Down does not dry quickly. I spent that night in my tent curled up with the dog, who was at least dry by this time.
The forth day was nice with only about 8 miles of hiking. No rain. It was a lot of up and down and I was getting pretty tired. My sleep had been less than adequate for the last two nights, and I had so many bruises that I was living on a steady diet of Advil to kill the pain. Foxtrot was carrying her pack and I had long since abandoned the idea of the dog leash. She didn't want to get separated again, so she was staying close at hand. I was with my friends most of the time now as well. We finally got to Bennett, the official end of the trail. We camped right on the lake shore. It was
wonderful. We walked around viewing all of the artifacts left by the gold rush stampeders. They certainly were not clean campers in those days. There were old tin cans and trash everywhere. I had mixed emotions about whether some of this junk should have even been preserved as artifacts. There were some interesting things, such as huge old metal stoves and even an old washing machine. The amazing thing was that those people had dragged all of that stuff up over that ridiculous pass! My, they must have been tough, determined people. I froze that night camping at Lake Bennett because it frosted that night. I was curled up with Foxtrot, but even she was cold that night.
I was happy to see the sun in the morning. We hiked out on the railroad tracks for 9 miles the next morning back to the van we had parked at the end. It was a great trip but I'm not sure I can remember too many times when I was actually enjoying myself. I gained a new appreciation for the strength, determination, and courage of the people who carved the history of Alaska.
When I got back to Skagway, I threw my sleeping bag into a dryer, and then I was free to camp my way home. I had 6 days left before I had to go to work, so I decided to take advantage of the time and travel around Canada, instead of racing for home, and the comfort of my own bed. The Klondike gold rush actually continued on from Lake Bennett to the Yukon River and on to the town of Dawson City. So I decided to go to Dawson also, since I had never been there. I camped there and visited the museums, went to the Catholic Church and visited the interesting little shops. The town looks just like it must have looked in the 1890's The tent city is gone, but there are old log cabins, saloons, and gambling halls, etc, all restored or fashioned after the original ones. The streets are still dirt.
I spotted a 500 mile gravel road on my map that goes to the north slope of Canada to a town called Inuvik. I decided to drive it. What a beautiful, wild place it was. There was one gas station midway, and a couple of one-building towns after that. I had to take ferries across two rivers. I had to cross two passes, including the continental divide before I reached the Arctic town of Inuvik. Somewhere in the middle of that desolate gravel road, my car started giving me trouble because my fuel filter had clogged. It was a little scary because I was truly out in the middle of absolute nowhere! I could only drive about 10 miles per hour up the hills. It took me forever - about 18 hours, to finally get to Inuvik. I crept in at 1:30 AM. I found a campground and crawled into my tent and WARM DRY sleeping bag. It was a wonderful night, beneath the midnight sun. In the morning I found an old mechanic who was able to fix my Subaru with a Dodge fuel filter. Here I was in a foreign country that didn't even sell Subarus at the time. He made it work again, thank goodness.
Inuvik was a darling place. All the buildings were small, simple, immaculate, and painted bright colors. Alaska's Arctic towns are usually somewhat primitive and dirty and don't have indoor plumbing. People use buckets for toilets and dump them in their yards. It can seem pretty disgusting for those accustomed to modern life. But Inuvik, Canada was not like that at all. This town was lovely and quite modern. I stayed there just one day, and then drove back down the gravel road, much more quickly, with my fixed car. I stopped at Dawson City again, and then went back to Alaska. On the way back to my home in Palmer, Alaska I visited the little village of Eagle, up another 65 mile gravel road. Eagle is a quaint little village on the Yukon River. I was happy when I finally got back to my warm and comfortable cabin in Palmer.
One Year Later
I learned a few very important lessons from that trip. The next year, I repeated the trip with several of the same friends. Only the second time, it seemed like an entirely different place. Instead of the 50 pound pack, I had reduced my essentials to a 25 pound pack. Foxtrot was now 15 years old, so I left her pack at home, and carried her dog food the entire way. We were blessed with sunny days the entire route, and the rivers and creeks remained at more reasonable levels. However, I still remembered my experience with the soaking wet sleeping bag. I still took my down bag, but this time I packed all of my gear inside a waterproof dry gear bag normally used for kayaking, and put that in my backpack. I left the camp stove at home and brought simple food that didn't require cooking. Instead of dragging along in last place, I was always in the front, and beat everyone else to the top of the pass. Foxtrot was having some trouble climbing over the boulders, so I ended up lifting her over many of them. But she still hiked along like the trooper that she had always been, proving that some determined old dogs can do quite well on the Chilkoot Trail.
All photography © Caren della Cioppa