Forty Four Below
Climbing Denali
1986
Caren della Cioppa

It was one of those days visitors to Alaska always dream about but rarely see, a day when the ever-present clouds surrounding the Alaska Range disperse long enough to reveal Denali, the top of North America, formerly known as Mt. McKinley. As I drove to Talkeetna from my home 100 miles to the south, I thought about the 4-foot deep snow bank in my yard, the 30-degree temperature, the bare trees, the ice on the lakes, and the other lingering signs of winter that spring breakup had not yet eliminated. I looked up at Denali and mentally calculated the temperature at 20,000 feet and realized it should be 70 degrees colder up there, a pleasant 40 below zero. This was not a comforting thought after 7 months of Alaskan winter. I also reflected on someone's mention of 48 below at Kahiltna Base last week. As I drove, I reassured myself that my decision to climb the mountain in April, two weeks before the climbing season begins, was a good one. I would beat the crowds and the stormy weather so characteristic of Alaska in May. I could handle a little cold, I thought as I turned up my car heater.

I pulled into Talkeetna and found the headquarters deserted. I wondered why I had gotten up at 5:00 am after teaching pilot ground school until 11:00 pm the night before just so I could meet at this vacant building at 8:00 am. Talkeetna is a very small town so I figured I could track down the other members of the expedition in a few minutes, even if I had to knock on every door in town. My stomach was growling so I followed it to the main restaurant in town. Here I found the other four members busy eating breakfast.

As I walked in the door, Dave recognized me from our introduction a month earlier when I taxied up to him in a Cessna 150 as he put the finishing touches on the new log headquarters. Dave is the classic picture of the Alaskan mountain man. I had recognized him immediately on my fly-in visit by his bushy black beard and strong muscular stature as described by the guide service owner. I remember wondering if Dave had single-handedly stacked the logs that formed the new building. Dave looked as if he had been lifting trees all of his life. Dave was chief guide.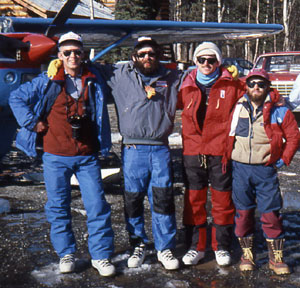 Assistant guide, Ron, was a smaller version of Dave. Ron was a little bearded fellow who stood all of 5 feet 1 and could easily be mistaken for an elf who had abandoned his home among the trees and taken to the mountains. What Ron lacked in height he made up for in muscle. He appeared to be made of solid steel. I was not surprised when I caught him reading a book called The Elfstones of Shanana. I just knew he was an elf.

In sharp contrast to Dave and Ron were the other two members of our expedition. Will was tall and gaunt, reflecting months of aerobic training in preparation for the climb. He was clean-shaven, extremely neat, and colorful in his brand new bright red climbing suit. Will's first love was parachute jumping and it was an obvious strain for him to talk of anything else. He had a million interesting stories and kept us all well entertained. Will lived in Virginia Beach and found Alaska to be a rather shocking contrast.

Mike was my favorite member. He probably looked even less like a mountaineer than I did, but now I feel he was the truest mountaineer of us all. Mike loved the mountains and climbing, and never ceased to be excited about the magnificence that surrounded him. Mike was tall and lean and obviously in excellent shape. He was so neat and fastidious that we later cited him as an example of the well-dressed mountaineer. Mike always managed to keep his clothes neatly folded and carefully placed in just the right place in his pack. The rest of us had become masters at stuffing things into little scrunched-up balls inside of even more scrunched-up stuff sacks. Mike was a Lear Jet pilot from Allentown, Pennsylvania. His only love in life, besides jets, was his cat with no name. I could sympathize with his fatherly concern for his cat since I had left my two dogs and cat with a house sitter and worried continuously if they were receiving the love and attention I was sure they needed. They, of course probably couldn't have cared less.

After breakfast, we met back at headquarters for an equipment check. The temperature was up to 40 degrees which in Alaska at spring breakup time causes those of us who remained through winter to appear in shorts and shirtsleeves. I was prepared for temperatures on the glacier and was sweating in long underwear under my Levis. Dave took one look at me and snapped, "Get a coat on, it's cold out here." His tone of voice told me that it would be in my best interest to put a coat on even if it was 100 degrees out, so I obliged. I guess that was his way of informing me who was boss on this trip.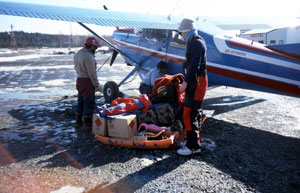 We spent a couple of hours checking equipment and practicing crevasse self-rescue techniques while hanging from the ceiling on a rope. Eventually I got all 50 pounds of gear back into my huge purple backpack. We began hauling all of our gear to the two Cessna 185's belonging to Talkeetna Air Taxi, which would fly us to the 7000-foot level of the Kahiltna Glacier. Backpacks, snowshoes, ski poles, crampons, ice axes, food bags, food barrels, sleds, ropes, tents, shovels, stoves, sleeping bags, the TEA bucket (a 5-gallon bucket that would be our bathroom for three weeks), and numerous other items were all stacked in piles beside the two little airplanes. The piles were so enormous that I felt obliged to take pictures to show my future private pilot ground school classes during the lesson on the hazards of overloading an airplane. The airplanes were stuffed with gear, and then we were stuffed in.

Dave, Mike, and I flew in the blue and white one, 8848D, piloted by Tony. I squeezed myself into the back seat among the snowshoes and ski poles, and with camera in hand and seatbelt fastened, prepared for departure. Then Tony plopped a 50-pound food bag on my lap. There must have been something about the look on my face that made Tony remove the food bag and place it in the other airplane. We taxied out onto Talkeetna's runway and I reassured myself that this airplane would be able to leave the ground because in Alaska it's permissible to overload an airplane by 10 percent under certain circumstances. We did, in fact, leave the ground but only after using what seemed like most of Talkeetna's 4000-foot runway.

As we approached the mountain I was reminded of an old mountaineering saying, "Mountains don't get closer, they just get bigger." After crossing thousands of tiny lakes, we left the flatlands and plunged into a giant granite canyon which seemed to reduce our airplane into an insignificant insect. The granite walls surrounding the Kahiltna Glacier rise as sheer cliffs to the summits of 17,400 Mt. Foraker and 14,573 Mt. Hunter. Our insect airplane flew up the glacier and turned right at Mt. Hunter then lowered its skis and descended to the snow runway marked by flags. As the skis touched, Cessna 8848D disappeared in a cloud of powder snow as we came gradually to an uphill halt at Kahiltna Base. We tossed all of our piles of equipment onto the snow and the two planes skied away. The sounds of their engines faded quickly into the distance, leaving the five of us alone on an infinite snowfield.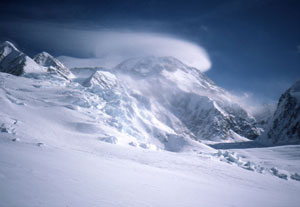 Upon further examination, we realized that we weren't really alone because several tents were in the area. We started dragging our supplies toward the other tents. After sinking to my knees in the deep snow, I decided to test the efficiency of my new Sherpa snowshoes. They were quite an improvement and I began to move forward instead of straight down. We loaded our sleds several times and pulled all of our gear to our new home at Kahiltna base. We took turns with the two shovels "digging in," a process involving digging a hole large enough to hold two tents and a cooking area and deep enough to prevent Denali's wind from blowing the tents back down the glacier to Talkeetna. The TEA bucket was set in a small hole behind camp, deep enough that by using our imaginations we could pretend we had privacy if we had to "go TEA" as Dave put it. I found that by pulling my parka hood down over my face I could have even more imaginary privacy. As the trip progressed, Mike found more and more elaborate ways to achieve conditions of semi-privacy. He could often be seen constructing sophisticated structures out of sleeping pads and ski poles to help shield him when he visited the TEA bucket. The bucket would travel with us and whenever it became full, we would tie the bag off and casually drop it into a deep crevasse.

After we dug our hole down, we used a snow saw to cut huge igloo blocks to build up a wall to further protect us from the wind. We put up two tents and set up a Coleman stove. After our spaghetti dinner, we settled down for our first night as the temperature dropped to a mild 10 below zero.

It took extreme will power to crawl out of my warm sleeping bag on the first brisk morning. We started with a hearty, greasy breakfast of fried eggs in English muffins which I nicknamed Egg McKinleys." Then we packed half of our gear onto our sleds for our first load up. The icy air seemed to reduce my fingers to useless, fumbling blobs and it was only after considerable struggling that I managed to get all the straps of my climbing harness attached to the proper places. I had so many ropes and carabiners (the rings that held them) hanging from me that I wasn't sure what went where anymore. I muscled my pack up on my back with its conglomeration of straps adding to the confusion already produced by my harness. Then I put on my snowshoes, clipped into the climbing rope and we were off, for about ten paces. At that point I looked down just in time to see that both of my snowshoes had broken and fallen off. The two guides were overjoyed by this discovery. We sifted through the snow and salvaged the parts which Dave put back on. The repair process was followed by a lecture on how I should have read the directions before I put my snowshoes together. Of course, he had put them together the same way I did only apparently he had tightened the bolts tighter than I. I suppose he was stronger from years of lifting trees. I then hid my red face behind my blue parka hood. We made it at least 20 paces before Will's snowshoe fell off. We finally got everything attached to everything it was supposed to be attached to and made our way 7 miles up the Kahiltna Glacier, and cached our first load.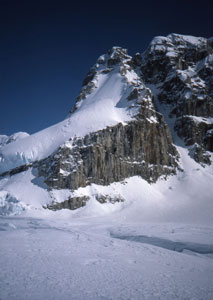 The silence of the white river of ice was suddenly shattered by the engine of Geeting Air Service's Cessna 185 followed by a huge military helicopter. They landed off to the left of our route in a gigantic crevasse field. We later heard that they were a rescue attempt for the unfortunate French man and woman who had fallen to their deaths 80 feet into a crevasse. From that moment on, Mike referred to crevasses as "yawning death." Each time I crossed one of the bottomless pits, I pictured it suddenly opening its enormous jaws and swallowing me up. We buried our supplies, still at 7000 feet but 6 miles closer, marked the spot, and hiked back to camp. That night we met our neighbors Harold, George, and Jethro. Our two parties passed each other several times daily for the entire trip.
The next morning we packed all but one tent and retraced our steps of the previous day. I began my hike with a scolding from Ron. Someone had neatly stretched the rope out so I was walking to take my place at the end. Ron let me know that I should just pull the rope up and tie it on. I started to pull the rope up then was told not to mess up the rope. This was followed by the "how many times do you have to be told how to do something" lecture. I was off the hook in a few minutes when Will's snowshoe fell off again.

Ray Genet once said of climbing Denali:…"To achieve this goal, it is important for each expedition member to realize that this will require a concentrated effort and positive attitude on his part.: I am a very sensitive person and become very upset whenever someone is harsh. Our guides were frequently sharp and angry with us and I had to exercise extreme will power to avoid becoming depressed over their attitude. To maintain this positive attitude for three weeks would require a special mental scheme on my part. So, I simply pretended for the rest of the trip that I was Naomi Uemura. Uemura was an amazing Japanese adventurer who disappeared on Denali two years earlier after he became the first person to reach the summit alone in winter. I simply allowed my gaze to wander along the immense granite peaks and drift through the endless walls of ice and snow and very easily considered that 1 was alone on this mountain. Any time I found myself feeling hurt or offended, I simply dismissed it because I was Naomi, alone in this wilderness in the middle of winter. I shared this scheme only with Mike who also was sensitive.

The next day en route to our cache at 10,500 feet we met a party of Koreans. Only their leader spoke English and he seemed to enjoy trying to converse with us. They were a party of three men and one woman. Every time we saw each other the Korean woman and I exchanged smiles and waved. The fact that we were the only women on the mountain formed a bond of friendship between us even though we did not speak each other's language. The Koreans had marked the way with Bamboo wands, each topped with a shiny red satin flag commemorating the 1986 Korean McKinley expedition. Dave seemed to get some sort of pleasure out of removing their flags from the wands and had quite a collection by the time we reached 10,500 feet. I saved a couple to remember them by. Our leaders had a contempt for the Koreans that 1 never quite figured out. Making fun of them seemed to help Ron and Dave pass the time.

We moved past our cache at 10,500 and went all the way to 11,000 the next day. I had some trouble keeping myself going, the result of a heavier load and being on Ron's rope. Ron traveled a little faster than Dave and it was just a bit too fast for me. I felt like I was on my last breath when we reached camp, but I recovered as soon as I had our cup of soup. A cup of soup was always tradition upon arrival at camp. I felt a little discouraged when I overheard Ron and Dave loudly discussing how they knew I'd wash out along the way, based on my lack of speed on the way to this camp. That was a great confidence builder but of course I didn't hear it because I was alone, soloing this mountain in my mind.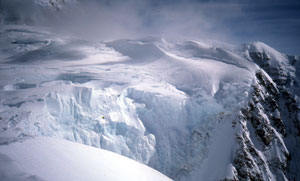 At 11,000 feet the temperature dropped to 24 below zero and our mornings hereafter were at least that cold. I got up to fix breakfast and was delighted to find that I had grown accustomed to the cold. Each morning the first person up would fire up the two MSR stoves and start hot water and breakfast while the rest stayed in their sleeping bags to stay warm. I fixed a lot of breakfasts because I always seemed to need to visit the TEA bucket earlier than everyone else. In fact, since we were encouraged to drink lots of water to prevent altitude sickness, I usually visited the TEA bucket several times in the middle of each night as well.

We started up to 13,000 to make a cache at a place very appropriately named Windy Corner. Its namesake forced us to retreat as it blasted us with blowing snow at about 50 miles per hour. We made our cache at 12,500 instead. I became fool of the day again now that we had cached our snowshoes and donned our crampons. I had tested my new crampons on a 5-hour snow hike with these boots, yet they still felt obliged to come off. I know they did it intentionally--they planned it very carefully and waited until the wind was blowing its hardest and the slope was the steepest and Dave was in the worst mood. Then my right one came off. But I was cool, I just happened to have an extra long leash on my ice ax so I cut off part of it and tied the crampon on quickly and walked very carefully the remainder of the day. Back at camp, I made both crampons smaller so that it took an act of God to get them on or off. Never again did my crampons let me down.

We moved next to 14,300 feet, probably the roughest day of the whole climb for all of us. We passed Windy Corner now clear, cold, and calm. Next we had a long steep traverse to negotiate. Although the traverse was somewhat treacherous, the dangers were surpassed by the astounding views of massive hanging glaciers that plunged 7,000 feet straight down to the Kahiltna Glacier. Mt. Hunter and Mt. Foraker rose prominently in the background. Ron and Mike traveled quickly on their rope, but Will was sick with a headache so our rope of three lagged behind. I was doing fine until the sun dropped behind the West Buttress. The temperature immediately plunged to 15 below zero and we all became instantly cold. We scrambled to get warmer clothes on. I had made the mistake of removing my pile pants so I had the miserable task of removing my harness, pack, and wind pants to get them back on again. The cold seemed to reach out and grab us, extracting every calorie of heat from our bodies. With the heat went the strength we needed to continue climbing. By the time we reached camp 1 was extremely weak, cold, and shivering. As soon as we finished digging in, I crawled into my sleeping bag with one of the greatest pleasures of the entire trip, three hot water bottles. Hot water bottles came to be one of life's greatest joys for all of us. The last person to bed each night would be assigned the task of filling everyone's water bottle with boiling water. I slept each night with my arms lovingly embracing my hot water bottle.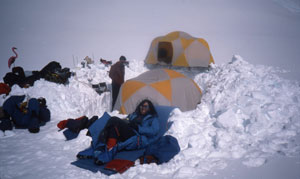 Our next day at 14,300 was a much needed rest day. We spent the whole day resting in the sun, sunbathing at 25 degrees. Of course, that night it dropped again to 20 below. We shared the 14,300 camp with the Koreans and Harold, George, and Jethro who our leaders labeled the three stooges. This was a remarkably small group for 14,300 compared to the typical 40 parties that usually occupy this camp during the regular climbing season.

After our day of rest, we returned to our cache at 12,500. On our return to 14,300, we passed two of the Korean men rapidly descending with their packs. Shortly after, their leader followed not carrying a pack. He stopped and asked me if I'd seen the other two. I told him they had just passed and we continued up. We left our packs at Windy Corner and hiked up a little peak that Dave had named Hero Point. This was a perfect place for photographers to take "Hero" shots. We took turns posing with Denali's summit in the background. The view here was quite spectacular. Our entire route up the Kahiltna was visible. Mt. Hunter and Mt. Foraker were in complete view. Most impressive was the immense icefall tumbling off the plateau that made our camp at 14,300 feet. It consists of massive chunks of ice, a mile long and 1,000 feet thick, which cling precariously to the surrounding rock ledges, daring some unwary climber to walk beneath them.

We elected to walk above them as we retraced our steps along the traverse to camp. The Korean leader passed us again, walking alone, still carrying no pack. He looked very tired. As I ascended, the effects of a codeine tablet I had taken earlier for abdominal cramps began to be enhanced by the lack of oxygen. By the time I got to camp I felt like a child who had gotten into Dad's liquor cabinet. I was so drunk from the codeine that the trail took on numerous curves and turns that were not there on the way down. Like a typical drunk, 1 found this all very funny. Our leaders, however, did not think it was funny and implied once again that I was about to wash out. George of Harold, George, and Jethro, shared in my laughter because he'd had the same experience the day before when he took codeine for a headache. I gave up trying to explain anything to Dave and sat on my pack next to Mike and laughed hysterically for at least half an hour. Mike loved it because I would laugh at any of his jokes, in fact I would laugh at anything and nothing. It was fun, but I refrained from any further use of codeine.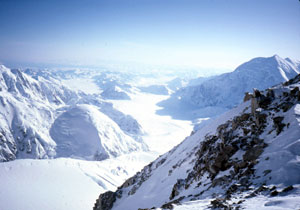 We left the relative comfort of 14,300 to move our cache to 16,000 feet. This was a long steep straight-up headwall that would definitely test the endurance of even the strongest soul. At 15,500 I began to slow down and Ron was feeling a bit ill. He suggested we go back to camp and let the others continue the cache. I was deciding when Mike asked me to strap some wands to his pack. In the process, my fumbling fingers managed to drop one of my bright red down expedition mittens. That miserable mitten, with the assistance of the wind, rolled and tumbled into the Bergshrund, the largest crevasse we had yet encountered. Here it disappeared forever in the jaws of Denali.

I went down with Ron. This was a good move because we watched the others all day as they struggled slowly up the fixed line to 16,000 feet. The wind came up and they got very cold. The three of them looked like they were near death when they returned to the nice warm meal we had waiting for them. I'm sure I was stronger the next day for having returned that day.

We had an unscheduled rest day when we woke up to the furious winds and monster lenticular clouds. Clouds of this type imply severe winds and create extreme hazards to both pilots and climbers who cross their path. Mike referred to theses clouds by both their scientific name "alto cumulus lenticularus" and his own name "monsters straight from hell." He was quite a photographer and was intent on capturing every "monster" cloud on film. The ferocious winds aloft seemed to originate from hell also, especially that morning as I tried to fix breakfast. I had every available piece of equipment stacked in piles around the stoves in an attempt to block the wind long enough to light them. Eventually after 30 tries or so I managed to light one stove along with the entire glove of my right hand. I was thankful that I had brought a few extra gloves because I seemed to be quite adept at destroying them in one way or another.

As we prepared to move our camp up the headwall, George, Harold, and Jethro told us the sad tale of the Korean party's defeat. They were defeated by their own tempers. Apparently there had been an argument as they started up the headwall, resulting in the two climbers packing and going down. The leader and my friend who I never got to speak to packed up and went down as we packed up and went up. I missed her. Ron was still very sick so he stayed at 14,300 while we moved camp slowly up the headwall to 16,000. A fixed rope has been maintained on this section for many years and we unroped from each other and clipped into it. We used ascenders, metal-handled affairs that clip onto a rope. They are made so that they can slide up the rope but under a load cannot slide down the rope. A loop of rope is tied from the ascender to the climber's harness so that a fall will be held by the fixed rope. The ascenders are also used to extricate oneself from a crevasse by climbing the climbing rope. The headwall was very steep and very icy, and later on a climber from another party was injured on this section.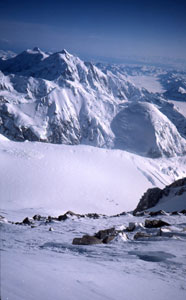 16,000 feet was a very strange place. Reaching this ridge offered a view not only of the entire Kahiltna, Hunter, and Foraker, but also a view to the north of Peter's glacier. Our accommodations were a little different here as well. We spent the night in a dark dank dreary snow cave. The cave was built two years earlier by Naomi Uemura on his ill-fated winter ascent. We squeezed the four of us into a space that would comfortably fit three people. The ceiling had fallen so that you could barely sit up without hitting your head. Of course, hitting the ceiling produced a veritable snowstorm as the ice crystals broke loose covering everything. The snow cave opening was quite small, causing those of us who suffer from claustrophobia to be very ill at ease. I quickly discovered that I am one of those people. The air at 16,000 is so thin that it produces a feeling of suffocation which mixes nicely with the claustrophobia. The 25 below zero added a nice finishing touch to the whole scene. None of us wanted to spend a second night here so we all eagerly packed up in the morning and moved up to 17,000 feet. Ron was feeling better and left 14,300 early enough to go to 17,000 with us. He really had some incredible stamina to do in one day, especially after being ill, what took the rest of us two days.

The climb from 16,000 to 17,000 was only a 1,000-foot gain, but it was an ordeal nevertheless. I averaged four to five breaths with each step, a very slow process. This ridge consisted of four very steep rock pinnacles each covered with a thin layer of snow. Although for the most part I would not consider it technical climbing, I did find myself using the front points of my crampons and my hands on numerous occasions. Most of this section was quite exposed with a shear drop of several thousand feet to each side. I had a plan worked out in my mind should one of the others slip. I figured that if they fell off the ridge to the left, I would simply jump off the ridge to the right thus canceling out the fall. Obviously one would not want to slip here. Also just to add a little challenge, the wind gradually picked up until it reached a 50 mile an hour gale just as we reached 17,000. The best camping spot was across a long plateau directly into the wind. I lost track of time as I struggled to follow Ron whose image was nearly totally obscured by the blowing snow. I walked for a few minutes in the general direction with my face covered, then look up and spot my guide, look down and continue. Sometimes it seemed that I was making absolutely no progress at all.

Eventually we all found our way to camp. We started the exhausting process of digging in, and I was glad when someone decided I wasn't digging in fast enough and relieved me of my shovel. I assumed the task of heating the tent poles over the stove so they would fasten together. It was obvious that the inventor of our tents had never used one in the cold because the poles were rendered useless in below freezing temperatures. Through some sort of miracle we managed to put up the tents and secure them in spite of the gale. I shared a tent with Dave. This was a real pleasure because he decided to bring the stove into the tent to cook. I think this was the first time since Talkeetna that I had really been warm.

We had a terribly restless night that first night at 17,000 because the wind increased to at least 80 miles an hour and tore furiously at our tents. It was as if Denali was intent on extricating our tents from her shoulder and flinging us back down to 14,000 feet, which was a direct drop below. The sound was awful. I felt like I was inside of a punching bag that rattled and shook with each violent punch. Along with all of the racket was the ever-present unrelenting murderous cold that continuously hovered around 30 below zero. In the morning I had two inches of frost growing around my face from my own breath condensing on my sleeping bag. The slightest movement caused me to gasp for air and remain out of breath for at least five minutes. 17,000 feet was not a hospitable place.

Hostile as this place was, we spent another rest day there, huddled in our tents while the wind continued to bombard them. Harold, George, and Jethro came to visit a few times as they also waited for the wind to die down and allow a summit attempt.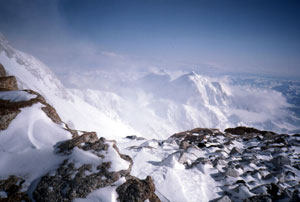 We awoke at 5:00 a.m. the next morning to 35 below zero and a brisk 30 mile an hour wind. An enormous swirling lenticular cloud surrounded the peak. Dave announced that today we would make a summit attempt. He admitted we would probably fail, but we would try anyway. I made a comment about the wind and asked why we didn't wait another day. Dave growled, "It's a rotten miserable place up there and it isn't going to get any better." So I decided this may be my only chance, put on every piece of clothing I had, and roped up. Ron was sick again so he remained in camp. We started up in the shadows toward Denali pass in the 90 below zero wind-chill. I felt strong and we all moved along at a fairly steady but not speedy pace, until Will's crampon came off. He fixed it and it came off again. The delays while he worked on the crampon gradually cooled us all in spite of the incredible amount of clothing we were all wearing. Just below Denali pass, at 18,000 feet, Dave, after realizing the increasing wind velocity, turned and announced that we would not make the summit today. He suggested we turn back. We tried to go up for a while, but finally agreed and descended.

The descent was steep and we went slowly, causing us all to cool down further. By the time we were back down to the plateau at 17,000 feet, I was deathly cold. I could no longer feel my hands or my feet. I did a lot of stumbling on my numb feet and had quite a bit of trouble holding onto my ice ax properly. I sort of staggered into camp with a little help from Dave and Mike. I crawled back into my sleeping bag with my faithful hot water bottles. My hands and feet warmed immediately and I recovered quickly. Dave ended up with a frostbitten finger and Mike had a frostbitten nose. Will still had the high-altitude headache that had plagued him since 12,000 feet. We were in great shape. Tomorrow we would try again.

Tomorrow was indeed a better day, still 30 below but minus the wind. My excitement quickly faded when Dave informed me that I was not going. Ron was still sick so we had no assistant guide and Dave didn't want to take a chance on me "washing out." I pleaded but I lost and spent the day at camp watching the rest of the group do what I had struggled for three weeks to achieve. Ron admitted later that he wasn't really sick but didn't want to get up that early. I actually pondered the idea of striking out on my own and completing the climb solo, but I knew this would have been unethical, and probably impossible. Although I felt cheated, I just figured this gave me an excuse to come back again. I was very happy for Mike and Will when they returned from the summit successfully. I will always wonder if I would have returned with the same success had I been permitted to go.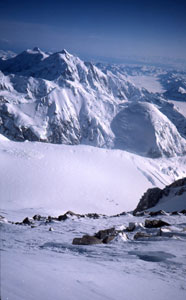 The final morning at 17,000 feet greeted us with a temperature of 44 below zero. It was a kind of final farewell from the mountain. I wondered if Denali was really saying, "Now get out of here." We packed up and started our long descent, camping that night at 14,000 feet. With each step down I felt stronger as I gulped in the thicker air. We left 14,000 and trekked all the way to base camp, a tedious 12-hour ordeal in a complete foggy whiteout snow storm. This 15-rnile walk was enhanced by the 50-pound pack I was carrying and the 40-pound sled I was dragging. I made a solemn vow to myself to never do this trip again without the assistance of skis. The lower we went the thicker the clouds became gradually dismissing our hopes of flying out of Kahiltna Base that night. For the next 10 hours I didn't know where we were. We just kept following bamboo wands that marked the trail. We met party after party on their way up. The deserted mountain we had climbed now swarmed with hundreds of climbers. Yes, in spite of the cold, April is a nice time to climb. There certainly was not much solitude anymore. We met interesting people from all over the world who shuddered when we informed them of the temperature at 17,000 feet.

At about l0:00 p.m. we reached Heartbreak Hill, the 150-foot hill that must be climbed to get back to base camp. Its name is very appropriate because no one feels like going up hill at this point. Dave, Mike, and Will were a bit ahead, and I was on a rope with Ron. I was leading at a leisurely pace when Ron yelled, "Can't you go any faster? If you'd hurry up, we could get a plane out of here tonight." I stared at him in disbelief knowing that not even a seagull could fly in these conditions. Besides, the planes won't fly after 9:00 p.m. and it was already l0:00. I decided this would be a good time to finally get mad so I yelled back, "Why don't you just run on ahead and call for the plane and I promise I'll be to camp before they get here." He didn't bother me anymore, and I moved as fast as I could. We pulled into camp shortly and took our place once more camped beside Harold, George, and Jethro. It was wonderful to be back and we were anxiously awaiting our flight to Talkeetna.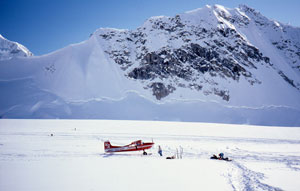 We anxiously waited and waited and waited as the clouds continued to obscure everything but the hands in front of our faces. We all developed stiff necks from staring up in search of an opening in the clouds large enough to permit a Cessna 185 to descend and rescue us. For four days we stared up, prayed, and harassed the park official, who had a radio, in hopes of some news of good weather. We began to feel that we would be spending the rest of our lives at Kahiltna Base. Apparently there were over 100 climbers who felt they would spend the rest of their lives in Talkeetna as they also waited to be flown in to climb. Mike and I busied ourselves cleaning, packing, and working on a design for an instrument landing system for the snowfield runway. I went to bed the fourth night and stated that I expected to be awakened in the morning by the drone of a Cessna 185.
It was 7:30 a.m. the next morning when my sleep was shattered by a deafening sound. I leaped from my sleeping bag and ripped open the zippered door of our tent, just in time to see a bright red Cessna 185 settle onto the runway in a cloud of powder snow.

All photography © Caren della Cioppa